There are countless ways we make our intentions come true...
and people are constantly looking for the right one.


The promise of making our dreams come true remains baffling, however. Some people manifest their deepest dreams, wishes, and desires while countless others do not.
Is there a common thread that makes dreams come true?
If two people leading totally different lives can manifest completely different dreams, the common thread must lie beyond these differences.
We can follow the common thread by beginning at the beginning.
Desires exist in consciousness. Dreams are born in consciousness. Making them physically real is a journey in consciousness.
Only by personally experiencing that all of reality is based in consciousness can the mystery of making dreams come true be solved. 
When you change how you view reality, reality changes.


- Life is a lucid dream, and everything that happens is a dream come true.


- Intentions are meant to manifest effortlessly.


- You don't think your way to fulfillment--you feel your way, using attention, self-awareness, insight, and moments of discovery.
- It takes awareness skills to manifest the unfolding of an intention. These skills consist of being centered, paying attention, and maintaining focus.
- When a dream is fully realized in consciousness, manifestation follows naturally.  
- When you know who you really are, you will manifest your dreams at the highest level.
- Triggering non-ordinary states of consciousness through the new science of psychedelics.
- What is this plant medicine's role in lucid dreams, emotions and thoughts, and non local experiences?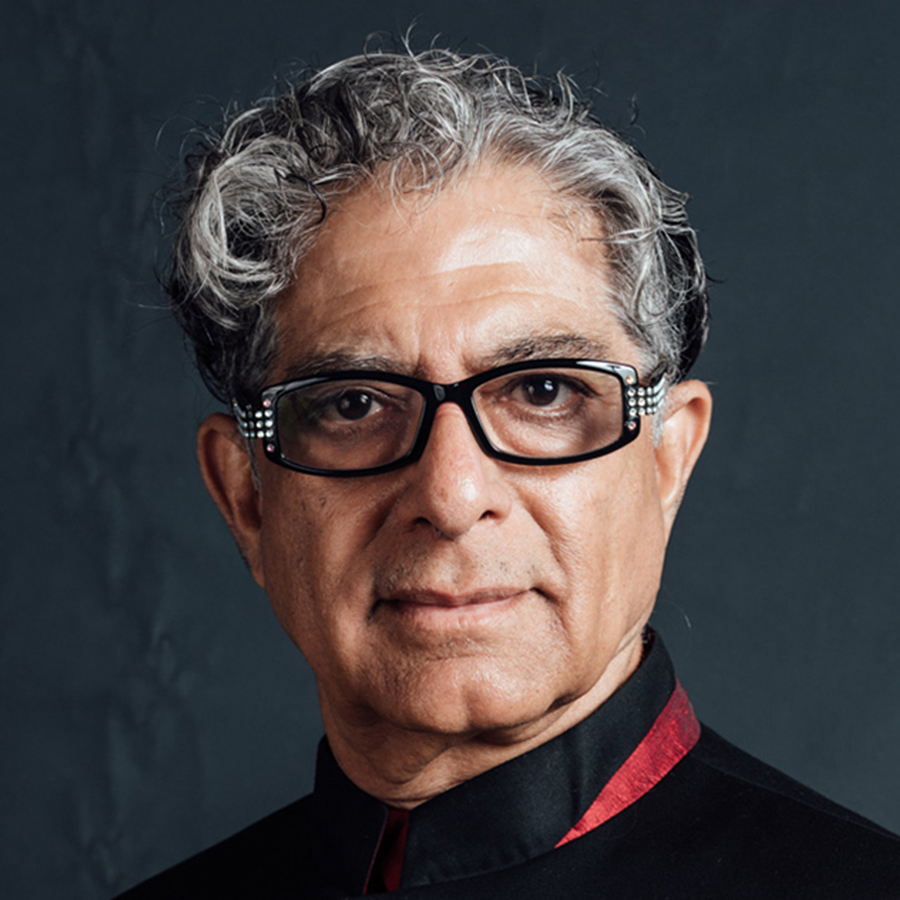 DEEPAK CHOPRA
DEEPAK CHOPRA™ MD, FACP, founder of The Chopra Foundation, a non-profit entity for research on well-being and humanitarianism, and Chopra Global, a modern-day health company at the intersection of science and spirituality, is a world-renowned pioneer in integrative medicine and personal transformation.  Chopra is a Clinical Professor of Family Medicine and Public Health at the University of California, San Diego and serves as a senior scientist with Gallup Organization. He is the author of over 90 books translated into over forty-three languages, including numerous New York Times bestsellers. His 90th book and national bestseller, Metahuman: Unleashing Your Infinite Potential (Harmony Books), unlocks the secrets to moving beyond our present limitations to access a field of infinite possibilities.  For the last thirty years, Chopra has been at the forefront of the meditation revolution and his latest book,  Total Meditation (Harmony Books, September 22, 2020) helps to achieve new dimensions of stress-free living and joyful living.  TIME magazine has described Dr. Chopra as "one of the top 100 heroes and icons of the century." 
Deepak Chopra Keynote Talk
Available in days

days after you enroll

Thursday, February 18th - Know Thyself: Psychedelics & Spirituality
COURSES
Study with World-Class Teachers
Expand your Awareness | Heal Mind & Body
EXAMPLE