Lunar Nidra: Full Moon Guided Yoga Nidra Practice
An Online Guided All Levels Yoga Nidra Practice with Michele Loew | Friday, August 12th, 2022 | 9:30 PM ET | Live with Re-Plays
Join Michele Loew, Founding Director of the Tibet House US | Menla Vajra Yoga School of Comparative Buddhist & Indic Yogic studies, and the Tibet House US | Menla community for an online introduction to Yoga Nidra.
Lunar Nidra: Full Moon Guided Yoga Nidra is a monthly series co-hosted by Tibet House US | Menla & The Yoga Space creating a digital, virtual space for those looking to deepen their understanding of yoga and the body, mind, and spirit connection through direct practice in an informal and relaxed setting.
Yoga Nidra is a practice that works on profoundly healing all the layers of the body/heart/mind complex. It also provides a bridge to pure consciousness. This evening session will provide students and seekers on the path to freedom a direct experience of Yoga Nidra under the light of the Full Moon.

Yoga Nidra helps in regulation of hormones, stabilization of glucose levels, alleviates PTSD, helps with sleep and healing, and creates a meditative state very quickly that is identified in brain wave analysis and can move people into Turya (the state of bliss or samadhi which is one of the highest states of realization), and it is takes us to the direct experience of the clear light of the void. It is deeply restful and a doorway to a meditative form that all levels of meditators can enter.
In this online session, we will explore:
How Yoga Nidra effects our subtle energies, using different Nidra practices each month, allowing the direct experience of the science and techniques taught by the lineages' Nidra.

What the practice of Sankalpa, the power of high spiritually-guided intentions or high vows are and how they can help improve one's modivation and realtionship to one's body, mind, spirit and community

What the science behind Yoga Nidra is, both through the perspective of neuroscience and yogic science, learning how this practice affects our brains, bodies, and all the layers (koshas) of our being.


Yoga Nidra is best enjoyed in a quiet setting, laying down prone on a yoga mat or comfortable blanket with a pillow or supportive neck materials. The session will begin with short pointing out instructions before guided meditation begins. The evening will conclude with a Q&A with Michele and fellow journeyers where individuals can share reflections and inquire about Yoga Nidra in a safe space.
Hosted on Zoom and simulcast on YouTube, these monthly gatherings are open to all those interested in holistic healing, yoga, and the Buddhist Inner and Outer Sciences and to those looking to learn more about Yoga Nidra's transformative practices.
This online event will be simulcasted live on YouTube with re-plays and bonus materials provided via Teachable.com.


Live Online Guided Yoga Nidra Practice and Q & A with Access to Replays
Includes Access to Past Luna Nidra Sessions.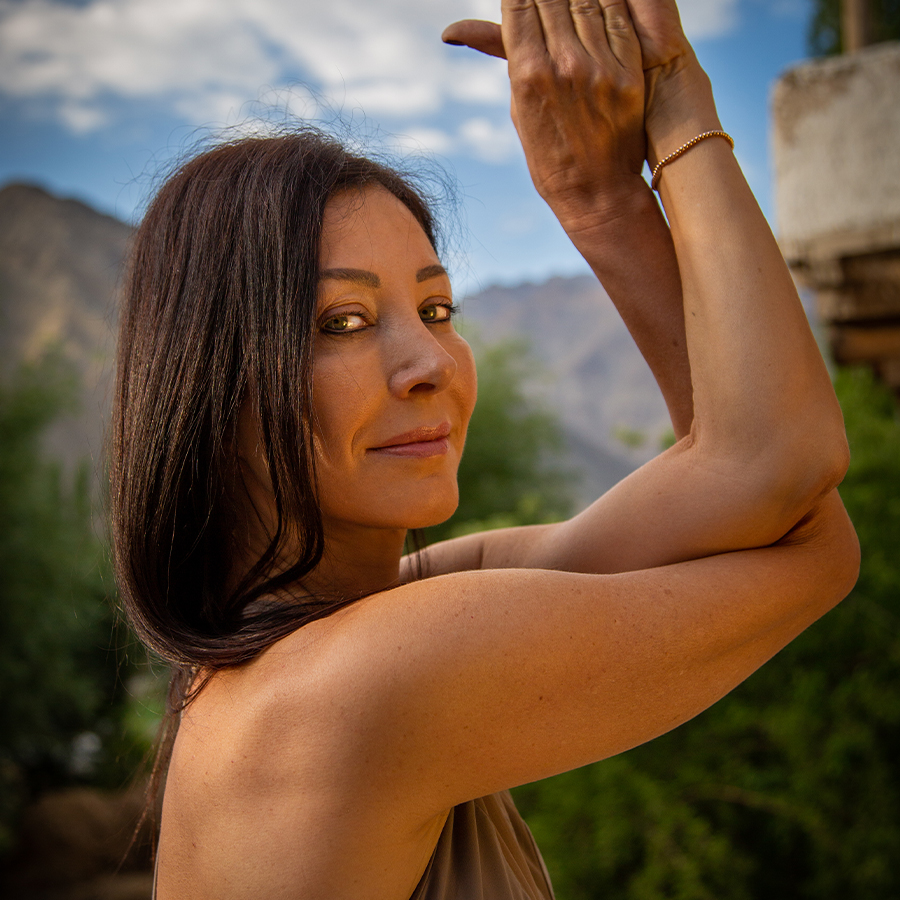 Michele Loew
Michele Loew is an international yoga teacher and practitioner of Hatha and Tibetan Yogas, and is the founding director of the Vajra Yoga School of Comparative Buddhist & Indic Yogic Studies where she co-teaches with Robert A.F. Thurman. Based in Portland, Oregon, she has taught, practiced, and studied yoga and yogic philosophy since 1998.
Her love and commitment to Vajrayana as a path towards enlightenment and the integration of those teachings with the Hatha yogas infuses her work with great joy and commitment to a more compassionate and awakened world. 
She honors the lineage of teachers she comes from and bows to her longtime Hatha and Classical Yoga teacher, Richard Freeman. To Robert Thurman and to her root guru His Holiness the Dalai Lama, the deepest bow for empowering her in the anuttara yogas. 
Michele teaches 200 and 500 Yoga Alliance Certification trainings, Yoga Nidra workshops, and classes and retreats regularly. 
Learn more please visit: www.micheleloew.com


Luna Nidra: Guided Yoga Nidra Practice Online

Available in days

days after you enroll

Friday, August 12th, 2022 | 9:30 PM ET
Available in days

days after you enroll

Bonus Materials
Available in days

days after you enroll

Thank You Gift & Online Feedback
Every dollar lends crucial support to Tibet House US | Menla during these dynamic times. All are welcome to join.
We encourage those who are financially comfortable to contribute above the class fees to support scholarships specifically and Tibet House US | Menla generally.
To apply for scholarship assistance please visit: www.menla.org or email us at [email protected]
Sarvamangalam! May All Beings Be Well!
Tibet House US Menla Online Courses
Study with World-Class Teachers,
Expand your Awareness | Heal Mind & Body