Join world-renowned chefs and doctors each Wednesday for 6-weeks, in live conversation about the things you care about most. 
Feeling anxious or stressed? It might be what you had for breakfast. 
Our food choices directly impact our mood, clarity, energy levels, and ability to focus. Nutrients inform our bodies how to function at the cellular level, and what we eat impacts our gut bacteria which sends chemical signals to our brain. If we don't get the right information, our metabolic processes suffer and our health declines leading to the development of disease like arthritis, chronic inflammation, depression, anxiety, diabetes, obesity, autoimmune disease, and heart disease. 
When chefs become doctors and doctors become chefs, we can literally learn to cook our way out of illness and overcome the fear and overwhelm of dietary choices by getting more personal with our kitchens. We can align our foods to feed our health and get incredible flavor and variety all at once.
We searched high and low to curate the most compelling group of evolutionary chefs, doctors, and change-makers into dialogue once a week to discuss their latest inspirations, passion projects, and cutting-edge visions for the future of food as medicine.
In this series you'll get LIVE, direct access to world-renowned experts at the top of their game along with the remarkable opportunity to ask the questions you've always wanted answered. It's time to live a more biologically integrated life, empowered with the tools to navigate our way to a more optimal state of health. 
In times of great challenge, it becomes more important than ever to optimize health. Learn which foods can bolster your brain health, lift your mood, and reverse the negative affects of chronic dis-ease. 
"The first wealth is health." ― Ralph Waldo Emerson
"To keep the body in good health is a duty, otherwise we shall not be able to keep our mind strong and clear." ― Buddha
Why are all the major chefs moving towards a focus on health?
A quick glance at the latest news, book launches, and restaurant openings of the world's top chefs will show a clear trend toward health: individual health, ecological health, and environmental sustainability. 
A major evolution is occurring where renowned chefs are now cooking for health as top priority, not only for the individual benefits and higher quality of life, but for the benefit to earth and future generations. The old cheffing paradigm of maximizing primarily for taste and appearance no longer seem as relevant in this new time. 
This 6-week online series celebrates the Evolutionary Chef as one that adapts to the new era we find ourselves living in, boldly innovating the delicious meals of today for the more abundant, healthy and loving future we know is possible.


Join us for 6-weeks and awaken the Evolutionary Chef in you! 
"Let food be thy medicine and medicine be thy food." ― Hippocrates
Mark Bittman has been a leading voice in global food culture and policy for more than three decades. Born in New York City in 1950, Bittman began writing professionally in 1978. After five years as a general assignment reporter, he turned all of his attention to food. His first cookbook, Fish: The Complete Guide to Buying and Cooking, was published in 1994 and remains in print; since then he has written or co-written thirty others, including the How to Cook Everything series.
In 1997 the New York Times asked Bittman to create a weekly column, "The Minimalist," which ran for thirteen years. In 2008, he wrote a Times "Week in Review" piece called "Rethinking the Meat-Guzzler" introducing millions of Americans to the connections among the overproduction and over-consumption of meat, chronic disease, and global warming.
This inspired Bittman to produce his two essay-driven books, Food Matters and VB6: Eat Vegan Before 6:00 to Lose Weight and Restore Your Health ... for Good, both of which were Times bestsellers (VB6 debuted at No. 1).
Simultaneously, he developed a new role at the Times, becoming the country's first weekly opinion writer at a major publication to concentrate on food while beginning a five-year stint as the Sunday Magazine's lead food writer.
Bittman has continued to produce books in the How to Cook Everything series, the general cooking bible for three generations, and has hosted or been featured in four television series, including the Emmy-winning Showtime series about climate change Years of Living Dangerously and Spain ... On the Road Again, with Gwyneth Paltrow.
He was a regular on the Today show from 2005 to 2010 (and still appears occasionally) and has been a guest on countless television and radio programs including Jimmy Kimmel Live!, Real Time with Bill Maher, and NPR's All Things Considered, Fresh Air, and Morning Edition; his 2007 Ted Talk, "What's wrong with what we eat," has been viewed five million times. He was distinguished fellow at the University of California, Berkeley and a fellow at the Union of Concerned Scientists; he remains a fellow at Yale and is now on the faculty of Columbia's Mailman School of Public Health. He has received six James Beard Awards, four IACP Awards, and numerous other honors.
Bittman is also the editor-in-chief of The Mark Bittman Project, a newsletter and website focusing on all aspects of food, from political to delicious. His most recent book is his history of food and humanity, Animal, Vegetable, Junk.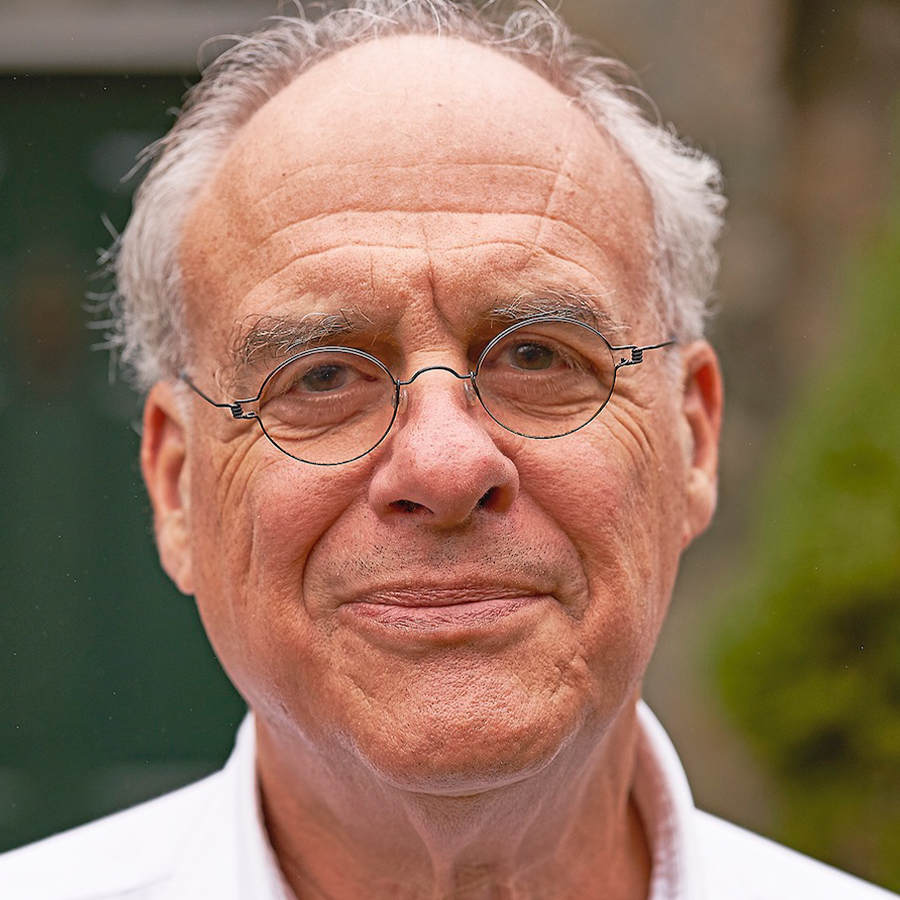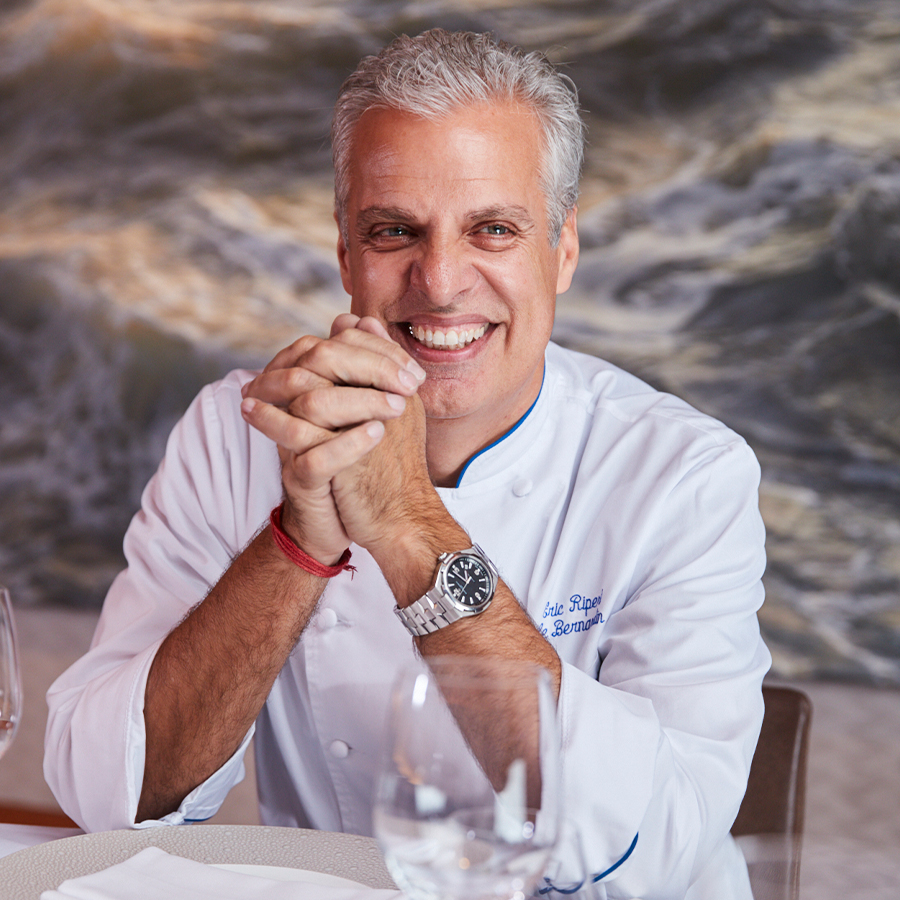 Eric Ripert is the chef and co-owner of the acclaimed New York restaurant Le Bernardin.
Born in Antibes, France, Ripert moved to Andorra, a small country just over the Spanish border as a young child. His family instilled their own passion for food in the young Ripert, and at the age of 15 he left home to attend culinary school in Perpignan. At 17, he moved to Paris and cooked at the legendary La Tour D'Argent before taking a position at the Michelin three-starred Jamin. After fulfilling his military service, Ripert returned to Jamin under Joel Robuchon to serve as chef poissonier.
In 1989, Ripert seized the opportunity to work under Jean-Louis Palladin as sous-chef at Jean Louis at the Watergate Hotel in Washington, D.C. Ripert moved to New York in 1991, working briefly as David Bouley's sous-chef before Maguy and Gilbert Le Coze recruited him as chef for Le Bernardin. Ripert has since firmly established himself as one of New York's— and the world's—great chefs.
In September 2014, Ripert and Le Coze opened Aldo Sohm Wine Bar, named for their acclaimed wine director Aldo Sohm. That same month, the two expanded Le Bernardin's private dining offerings with Le Bernardin Privé, a dynamic space above Aldo Sohm Wine Bar that can accommodate a range of events.
Ripert is the Vice Chairman of the board of City Harvest, working to bring together New York's top chefs and restaurateurs to raise funds and increase the quality and quantity of food donations to New York's neediest. When not in the kitchen, Ripert enjoys good scotch and peace and quiet.
Uma Naidoo, MD is a board-certified psychiatrist, professional chef, and nutrition specialist. She is currently the Director of Nutritional and Lifestyle Psychiatry at Massachusetts General Hospital (MGH), where she consults on nutritional interventions for the psychiatrically and medically ill; Director of Nutritional Psychiatry at the Massachusetts General Hospital Academy; and founder of a private practice. She teaches at The Cambridge School of Culinary Arts, and blogs for Harvard Health and Psychology Today. Her new book is THIS IS YOUR BRAIN ON FOOD: An Indispensable Guide to the Surprising Foods that Fight Depression, Anxiety, PTSD, OCD, ADHD, and More" (Little, Brown Spark; August 2020).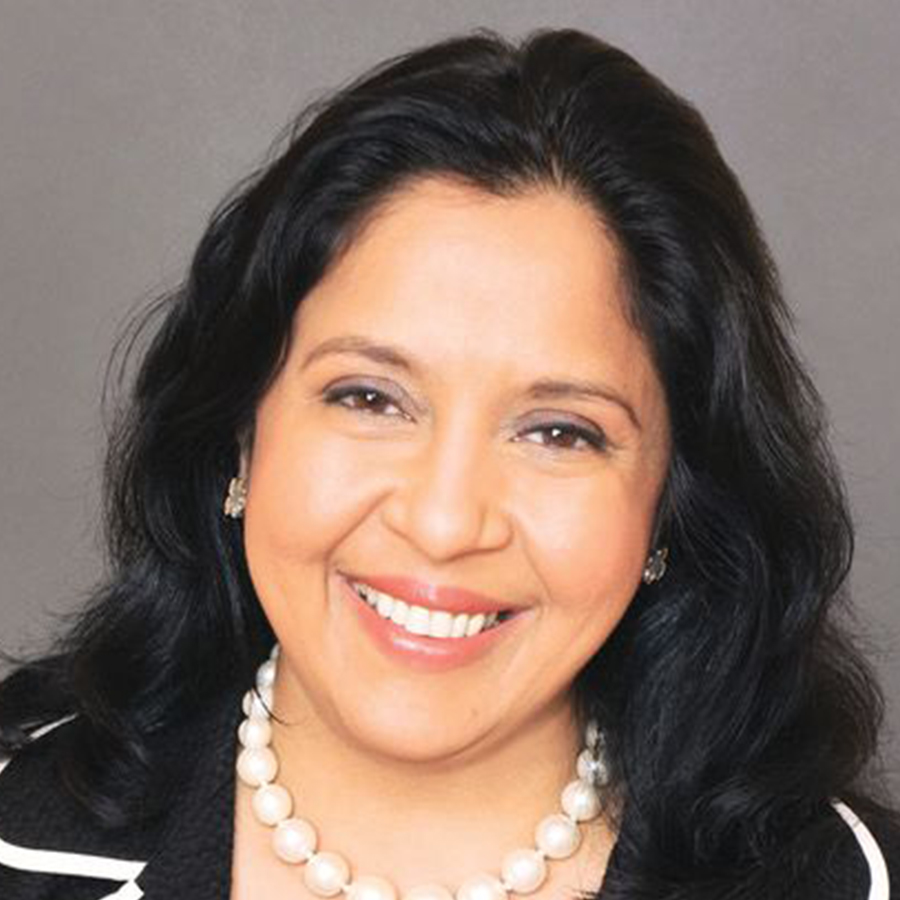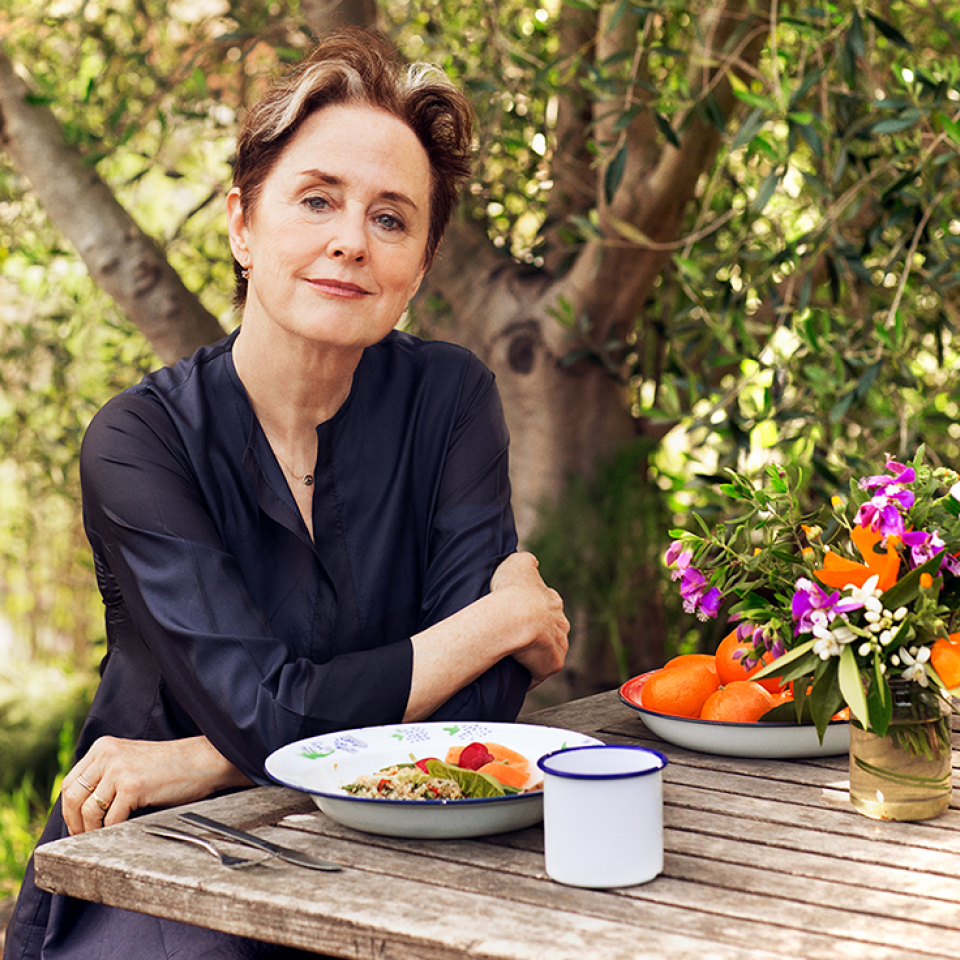 Alice Louise Waters (born April 28, 1944) is an American chef, restaurateur, activist and author. She is the owner of Chez Panisse, a Berkeley, California restaurant famous for its organic, locally grown ingredients and for pioneering California cuisine, which she opened in 1971.
Waters has written 16 books including Chez Panisse Cooking (with Paul Bertolli), The Art of Simple Food I and II, and 40 Years of Chez Panisse. Her memoir, Coming to my Senses: The Making of a Counterculture Cook was published in September 2017 and released in paperback in May 2018.
Waters created the Chez Panisse Foundation in 1996, and the Edible Schoolyard Project at the Martin Luther King Middle School in Berkeley, which just celebrated its 25th anniversary. She is a national public policy advocate for school lunch reform and universal access to healthy, organic foods. Her influence in the fields of organic foods and nutrition is typified by Michelle Obama's White House organic vegetable garden.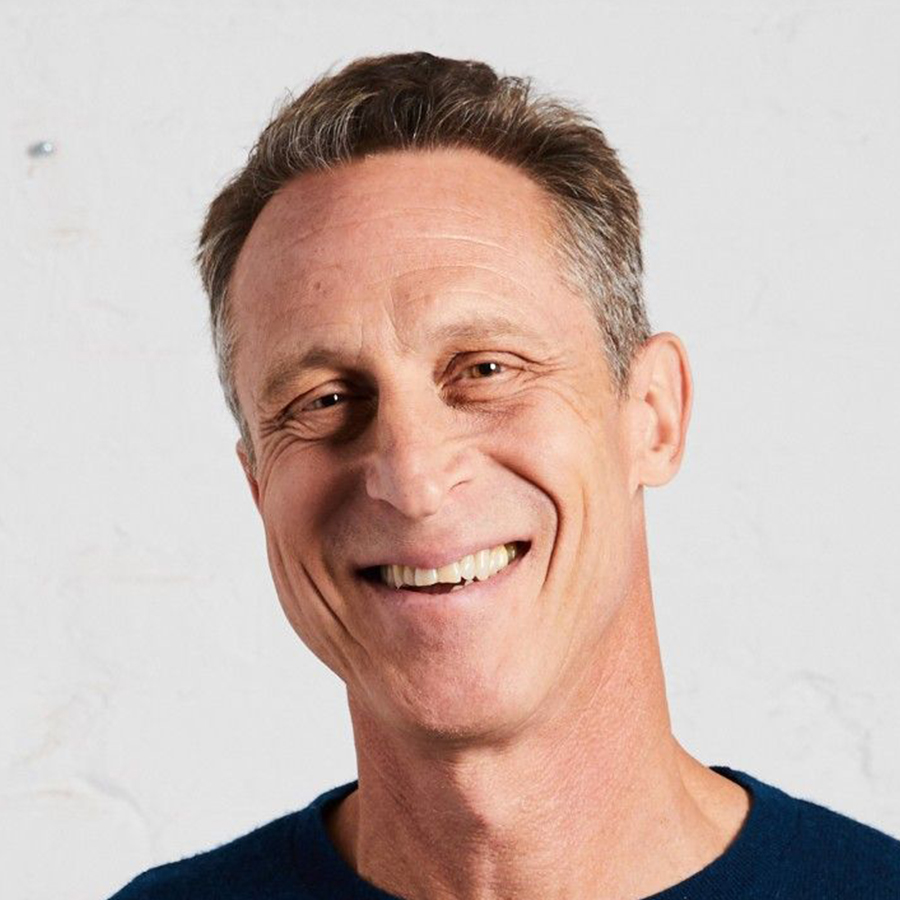 Dr. Mark Hyman is a practicing family physician and an internationally recognized leader, speaker, educator, and advocate in the field of Functional Medicine. He is the founder and director of The UltraWellness Center, the Head of Strategy and Innovation of the Cleveland Clinic Center for Functional Medicine, a fourteen-time New York Times best-selling author, and Board President for Clinical Affairs for The Institute for Functional Medicine. He is the host of one of the leading health podcasts, The Doctor's Farmacy. Dr. Hyman is a regular medical contributor several television shows and networks, including CBS This Morning, Today, Good Morning America, The View, and CNN. He is also an advisor and guest co-host on The Dr. Oz Show.
In 1958, a year before the uprising in Lhasa Tibet, I was born into a noble family. When I was five years old, my siblings and I fled with my parents due to the invasion of Chinese Communists, via Sikkim to McLeod Dharamsala in India into a refugee camp. In 1964, my younger sister and I were given into two different foster families in Switzerland. In Zürich and Basel.
In Basel, I began my apprenticeship as a cook in a 5-star Hotel. At 29 I opened my first restaurant, which was immediately awarded points by Gault & Millau. In my 2nd restaurant I would have received a Michelin star, but I decided to start something new, namely the gastronomy in the 3Culture House in Basel with opera, drama and ballet. I also became a shareholder of a local Jazzclub.
After 7 different Restaurant Projects I completed my last restaurant in Basel in 2008, called the "angry monk" Dumplings & Breakfast lounge. Then I began my journey as "Traveling Chef" which brought me as Executive Chef to the swiss Alps - Canada - India Nepal - Tibet - Yunnan. 
In 2019 back in Switzerland, shortly before the Covid shutdowns, I become the Private Chef to an elite family and concurrently operate my private Kitchen Lab where I give cooking lessons, do experiments in bakery, pastry, sausagery, in Asian, Tibetan French, Italian and continental cuisine, in addition to selective high-end catering.
When I am not immersed in my cuisine I love hiking, biking, soccer, wine tasting and reading books.