Wednesday, May 5
Join world-renowned chefs and doctors, in conversation about the things you care about most. 


Episode No. 2 (of 6-part series): The Beauty, Simplicity & Elegance of Vegetables
Featuring Eric Ripert, chef and co-owner of revered four-star restaurant Le Bernardin, for a discussion about his new cookbook, Vegetable Simple. Ripert has built his culinary career on seafood, preparing fish with a focus and skill that enhances its essential qualities. 
In Vegetable Simple, he turns his singular culinary imagination to vegetables, highlighting them with the same level of care to celebrate their beauty, simplicity and elegance, to which, he argues is ultimately for the well-being of the planet.
Feeling anxious or stressed? It might be what you had for breakfast. 
Our food choices directly impact our mood, clarity, energy levels, and ability to focus. Nutrients inform our bodies how to function at the cellular level, and what we eat impacts our gut bacteria which sends chemical signals to our brain. If we don't get the right information, our metabolic processes suffer and our health declines leading to the development of disease like arthritis, chronic inflammation, depression, anxiety, diabetes, obesity, autoimmune disease, and heart disease. 
When chefs become doctors and doctors become chefs, we can literally learn to cook our way out of illness and overcome the fear and overwhelm of dietary choices by getting more personal with our kitchens. We can align our foods to feed our health and get incredible flavor and variety all at once.
We searched high and low to curate the most compelling group of evolutionary chefs, doctors, and change-makers into dialogue once a week to discuss their latest inspirations, passion projects, and cutting-edge visions for the future of food as medicine.
In this series you'll get LIVE, direct access to world-renowned experts at the top of their game along with the remarkable opportunity to ask the questions you've always wanted answered. It's time to live a more biologically integrated life, empowered with the tools to navigate our way to a more optimal state of health. 
"The first wealth is health." ― Ralph Waldo Emerson
"To keep the body in good health is a duty, otherwise we shall not be able to keep our mind strong and clear." ― Buddha


Why are all the major chefs moving towards a focus on health?
A quick glance at the latest news, book launches, and restaurant openings of the world's top chefs will show a clear trend toward health: individual health, ecological health, and environmental sustainability. 
A major evolution is occurring where renowned chefs are now cooking for health as top priority, not only for the individual benefits and higher quality of life, but for the benefit to earth and future generations. The old cheffing paradigm of maximizing primarily for taste and appearance no longer seem as relevant in this new time. 
This 6-week online series celebrates the Evolutionary Chef as one that adapts to the new era we find ourselves living in, boldly innovating the delicious meals of today for the more abundant, healthy and loving future we know is possible.
Join us for 6-weeks and awaken the Evolutionary Chef in you! 
"Let food be thy medicine and medicine be thy food." ― Hippocrates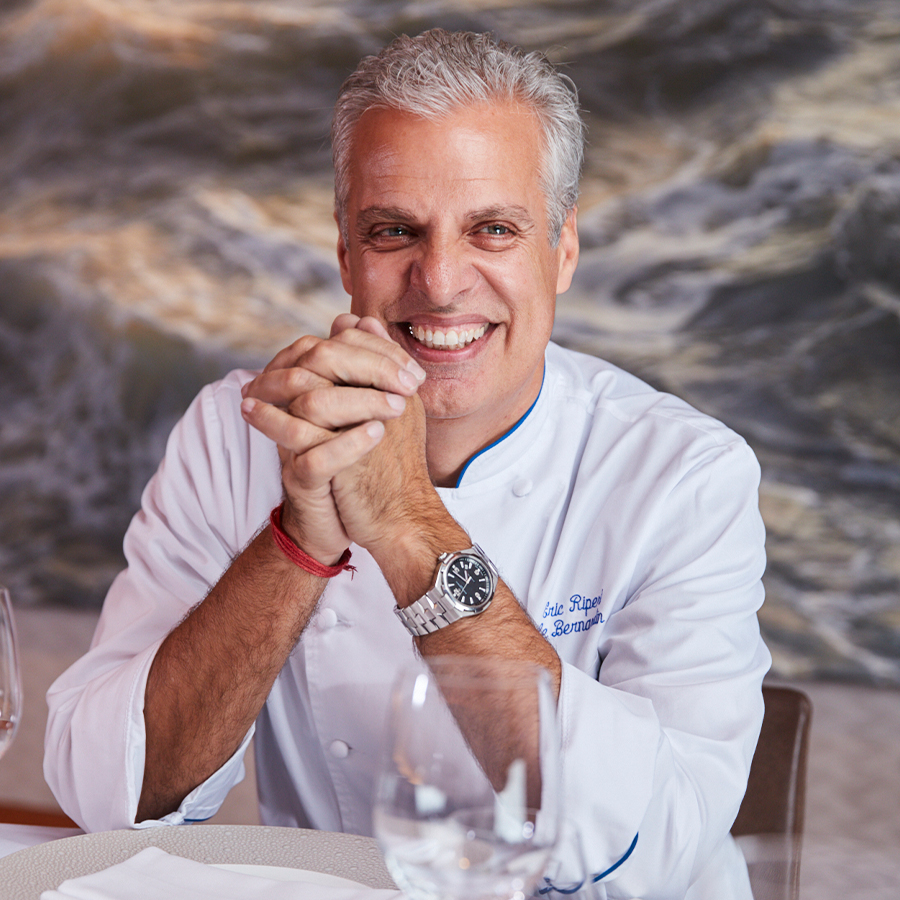 Eric Ripert is the chef and co-owner of the acclaimed New York restaurant Le Bernardin.
Born in Antibes, France, Ripert moved to Andorra, a small country just over the Spanish border as a young child. His family instilled their own passion for food in the young Ripert, and at the age of 15 he left home to attend culinary school in Perpignan. At 17, he moved to Paris and cooked at the legendary La Tour D'Argent before taking a position at the Michelin three-starred Jamin. After fulfilling his military service, Ripert returned to Jamin under Joel Robuchon to serve as chef poissonier.
In 1989, Ripert seized the opportunity to work under Jean-Louis Palladin as sous-chef at Jean Louis at the Watergate Hotel in Washington, D.C. Ripert moved to New York in 1991, working briefly as David Bouley's sous-chef before Maguy and Gilbert Le Coze recruited him as chef for Le Bernardin. Ripert has since firmly established himself as one of New York's— and the world's—great chefs.
In September 2014, Ripert and Le Coze opened Aldo Sohm Wine Bar, named for their acclaimed wine director Aldo Sohm. That same month, the two expanded Le Bernardin's private dining offerings with Le Bernardin Privé, a dynamic space above Aldo Sohm Wine Bar that can accommodate a range of events.
Ripert is the Vice Chairman of the board of City Harvest, working to bring together New York's top chefs and restaurateurs to raise funds and increase the quality and quantity of food donations to New York's neediest. When not in the kitchen, Ripert enjoys good scotch and peace and quiet.
Available in days

days after you enroll

Wednesday, May 5th
Available in days

days after you enroll

Learn More & Connect
Sign up for the entire series!
Click this link and gain access to each speaker's favorite recipe and exclusive pre-recorded cooking demos.


COURSES
Study with World-Class Teachers
Expand your Awareness | Heal Mind & Body
EXAMPLE
Check your inbox to confirm your subscription